Non milk based cereals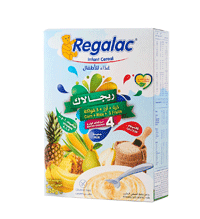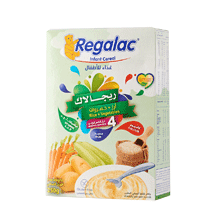 REGALAC®non milk based cereals
Following the recommendations of Health professionals, the starting of the food diversification period should be done between the age of 4 months and 6 months. During this period, the proportion of diversified food is increasing and becomes progressively the main source of nutrients at 2 years' old.
Main characteristics of REGALAC®non-milk based cereals:
Partial Enzymatic hydrolysis for a better digestion (easy to digest)
Contain natural dietary fibers allowing to regulate the intestinal transit
Enriched with Calcium and Vitamin D for bone mineralization
Enriched with Vitamin A for visual acuity
Outstanding reconstitution without lumps
Tastes available:
Rice & Corn cereals with 3 fruits (apple, banana, orange) *
Rice cereals & vegetables (carrot, potato and zucchini) *
If you are interested in other varieties, please feel free to contact us.
REGALAC®Cereals comply with the latest regulations in force (Codex Alimentarius 2006)

* Gluten free cereals