REGALAC®LF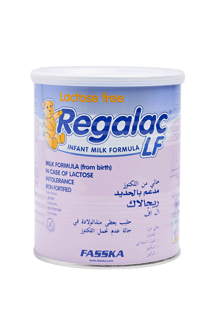 Lactose Free Formula for the management of lactose intolerance
REGALAC®LF is a lactose free milk formula for the management of lactose intolerance. In case of a bad digestion of lactose intolerance, it is convenient to give an infant formula without lactose under medical advice. REGALAC® LF formula is based on REGALAC® 1 & REGALAC® 2 compositions to which some specific adaptations have been made in order to answer the particular situation of lactose intolerance. REGALAC® LF can be used from birth onwards.
Main characteristics of REGALAC® LF:
Specific carbohydrates content (exclusively maltodextrin – easily digested and source of directly available energy)
Specific proteins content (milk proteins lactose free). The proteins are exclusively casein in order to avoid any trace of lactose that could be contained in whey proteins
Optimal fatty acids profile thanks to the use in production of a specific blend of vegetable oils
Provides the adequate amounts of essential fatty acids (ω6 & ω3) for proper infant development and LC PUFA's synthesis
Enriched with the 4 conditionally essential nutrients (Choline, Taurine, Inositol & L-Carnitine)
Enriched with 12 minerals & 13 vitamins in compliance with daily recommended intakes
The composition of REGALAC® LF complies with the latest regulations in force (Codex Alimentarius 2011 and EU directive 141/2006) and scientific recommendations (ESPGHAN 2005 and AAPCON).
Important notice: Breast milk is the best food for infants. If breastfeeding is not available or not sufficient, an infant formula may be used according to Health professionals' guidance.